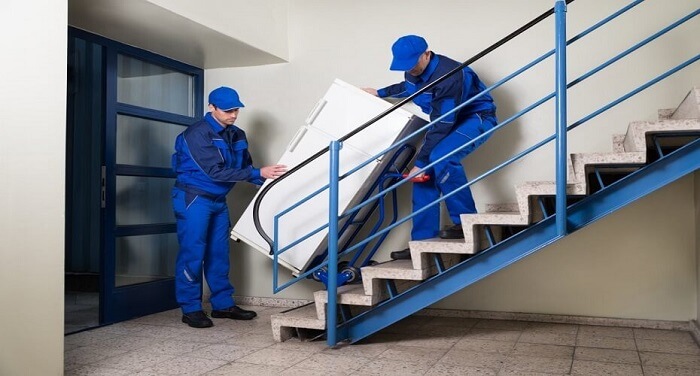 We rarely consider that there will also be a moving service for relocating a refrigerator. Additionally, it's somewhat true because few reputable moving firms like Perth Movers Packers offer fridge removal services in Perth. Our fridge movers Perth come in to save the day in this scenario. We provide clients on a budget for both significant and minor moving services. We work hard to offer a wide range of services to lessen the hassle of moving from one location to another or transporting a single item. And because of this, fridge removals Perth stand out from Perth's other fridge movers. We strive to provide a range of services in one place.
We have the finest and most skilled fridge movers Perth regarding our fridge/refrigerator relocation service. Our team of fridge removalists Perth is committed to providing our esteemed clients first-rate services fridge moving services with the utmost expediency. After you make a booking for our expert fridge removalists in Perth, you won't need to worry about anything. You may not have to worry about your valuables being destroyed during the procedure or our team's carelessness because we have you insured. Perth Movers Packers offers you the benefits of excellent fridge removals services at competitive prices.
We never make a guarantee note for a task we can't do. Our fridge movers Perth are knowledgeable and well-versed in appliance removal and storage. Because of this, we are capable of installing your refrigerator in addition to moving it. Our team has extensive industry expertise, enabling them to handle any difficulties when moving your refrigerator. So think much, and handle this job of refrigerator relocation to our fridge movers in Perth.
Why Choose Our Fridge Removal Service In Perth?
We have the best fridge movers in Perth for the job if you've just purchased a new refrigerator and need it transported to your home. Our refrigerator movers Perth are trained to handle refrigerators with care and are equipped with the necessary equipment and vehicles to do the job efficiently. Since handling electronic items is complex, our experienced fridge movers Perth ensure transport to your location and the appropriate point within it.
Electronic equipment removal and disposal, such as with refrigerators, is not simple, but when you watch us handling it for you, it turns out to be as simple as doing nothing!
Look at some of the other reasons for hiring our fridge removals Perth:
1. Provide With Free Quotes For Fridge Removals
We offer free online quotes to make it simple for you to schedule our fridge removal services in Perth while relaxing at home. Before actually hiring us, this enables you to determine if we are the best fridge removalist for your needs or not. On the basis of the information provided by you, we offer cheap fridge removal quotes at no cost from which you can choose the best suitable one. We believe in being open and honest with our clients.
2. Exceptionally Low Prices
The majority of individuals think hiring our fridge movers will be pretty expensive. It is false, and we know this because we've been providing our fridge removal service in Perth for more than 10 years at the lowest cost to meet every client's requirement. We are keeping our moving and packing service quality high at competitive prices.
3. Qualified And Experienced Fridge Movers In Perth
Many people believe that relocating a refrigerator is a "no-brainer," but transferring such a bulky, expensive household appliance is far from simple. The necessary knowledge and expertise are required to properly load the furniture and carry it to the intended area. And that is what our fridge movers Perth have. Our fridge movers Perth are well-trained and experienced in moving different types and sizes of fridges with ease and expertise.
4. 24/7 Accessibility Of Fridge Removals Perth Service
Any hour or day can be necessary for a fridge removal service in Perth. We offer you freedom, so you may easily use our refrigerator moving services whenever you desire. You can schedule us on the holidays without a second glance even if you are busy during the week, and vice versa. Since we appreciate your time, we put a high priority on providing the services right away. Time to us is equivalent to money.
5. Excellent Security Solution
Along with offering the best and safest refrigerator removal and disposal services in Perth, we also provide comprehensive insurance to give your belongings a second layer of security. Our clients are our top priority; thus, we do anything to keep the removal procedure simple and safe.
6. Availability Of Online Payment
Due to its convenience and safety, internet payment is preferred by many clients. To make things easier for our cherished customers, we developed the option of making payments online for moving and packing services. Whether you pay online or manually with cash is entirely up to you.
Services Offered By Our Fridge Removalists Perth
1. Refrigerator Packing Services
When you move by yourself, you have the added stress of correctly packaging and loading the items. It will be your duty to fix any cracked or broken piece of your fridge. You can guarantee the security of your bulky household appliance during the packing and moving process by working with our reliable fridge removalists Perth. To save both time and money, our fridge movers Perth will arrive at your location with their packing materials, including tape, boxes, packing paper, bubble wrap, etc. We will handle your bulky fridge with care and use the best packaging techniques to provide them with an additional layer of protection.
2. Refrigerator Removal And Pick-Up
After packing, our fridge movers will properly load your refrigerator and watch out for damage during shipment. We have extensive experience in loading, unloading, and packaging the largest objects, including refrigerators and other heavy appliances. To collect your refrigerator, our fridge removals Perth team will show up at your location and choose the best approach to remove the fridge from your kitchen or commercial place without causing any damage, whether you want to remove an old refrigerator or have a broken fridge removed. You won't even need to handle the problematic lifting if you do it this way!
3. Refrigerator And Freezer Recycling
After the poisons have been eliminated, you can properly remove your old appliance. Your drained refrigerator's casing will be broken down to its parts for disposal if it is taken to an appropriate recycling facility. Metals, plastics, and glass are just a few of a refrigerator's or freezer's components that can be recycled to create new goods.
If your previous unit could still be fixed before removing it, you would have additional choices. You might ask your Tasker to deliver your old refrigerator to a reputable charity so it can be recycled and donated. You may also get your old refrigerator fixed, and your fridge movers in Perth can help you sell it once it's set.
4. Fridge Disposal & Replacement Service
You would need room to install your new fridge in your home if your old one broke down and we were shopping for a replacement. For that, you must discard the old one because once it breaks down, it is useless. Low-cost fridge removals Perth can assist you in this situation by disposing of your old refrigerator safely. Additionally, if your refrigerator is still functional but wants a new one for various reasons, such as it could be due to recent advancements. You can offer your old refrigerator for sale to a dealer of used refrigerators in this circumstance.
To know more contact us now, you can call us at: 1800 865 005
Or can also mail us on: info@perthmoverspackers.com.au